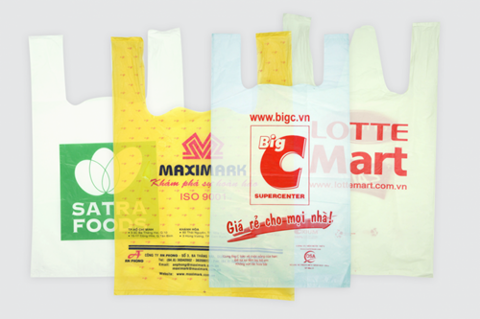 Technology Date: 13-09-2019 by: Nguyễn Cao Cường
How are produced plastic bags?
Plastic bags is a very popular product today. Plastic bags may be the mouth with a pocket, or bag mouth with the first deflection strokes (zipper bags, pockets rubbing, stroking pocket edge). How are produced plastic bags?
Plastic bags are made from polyethylene plastic resin through extrusion – blown film process.
Plastic bags is the kind of packaging is very popular nowadays. But 60 years ago, no one had ever thought that "plastic bags will be gradually more popular paper bag" The reason is that the plastic membrane technology not appear until the 1940s, and had to wait until 1950, the production technology of plastic bags beginning development.
Plastic bags are made from polyethylene (PE). The production process consists of three main steps: blown film, printing, finishing.
PE materials when manufacturing plants are usually granular plastic bags (called plastic beads). Before production, PE material can be machined further with some additives to add some features, such as:
– EPI, D2W ( 1-2 % ) to biodegradable bags
– Adhesion Inhibitor (anti -blocking) to prevent the plastic membrane sticking together, especially it can help thin LDPE bags opened easier (slippery, sliding over each other 2 classes are).
– UVI (Ultraviolet): anti- ultraviolet rays, kind of radiation can reduce engine durability and fade reasons plastic bags.
1. Blow film
This is the most important step in the production process of plastic bags.
Plastic beads are applied to the Extrusion – Blow, they are melted under controlled conditions to make them melt and flexibility (about 380oF). Then they forced – extruded through a tubular mold. While still at high temperatures, an output of the pipe is fixed, the air into a form a bubble (as well as to cool the membrane) and is enhanced, extended to the size and thickness desired. This process is known as "extrusion – blown film".
When climb around 20-35 feet, film cools and is made up of two layers in the flat when passing slots include two roller shaft. Finally, it was rolled into the roll film.
2. Printing
The film rolls are passed through plastic bags printer parts. Depending on the design maket, the color print, print … the number of bags in plastic bags stages which will be processed by screen printing, copper pipe printing or flexo printing.
3. Complete and finished products
This phase includes the steps of: cutting, marking, folding, stamping straps, mounting straps … depending on the design of plastic bags. Common types of plastic bags: t-shirt bags, die- cut bags, flat bags attached straps, zipper bags, roll bags…
The production of plastic bags is the most important step "film blowing" – it determines the thickness and durability of the product theorem.